Uncover the Best SIP Trunks for Your 3CX System
When modernizing your communication infrastructure and improving your operational flexibility, combining a powerful phone system like 3CX and a robust SIP trunking service like SIP.US can be transformative. In our digital age, 3CX-supported SIP trunks have emerged as a critical ingredient in efficient and cost-effective business communication.
Why are we at SIP.US so enthusiastic about this? Because we understand the potential of a seamlessly integrated IP PBX server, SIP-based phones, and a SIP trunking service provider. This trio not only connects both internal and external calls to the right devices but also offers significant reductions in communication costs and administrative headaches.
But before we learn about the specifics of the best SIP trunks for your 3CX system, let's take a moment to clarify what these terms mean.
3CX is a Windows-based IP phone system that replaces traditional PBX systems and provides advanced unified communications features. On the other hand, SIP (Session Initiation Protocol) Trunking is a technology that uses the internet to connect your phone system to the Public Switched Telephone Network (PSTN), replacing traditional lines or PRIs.
To help you kickstart your journey into improving your business communications, here's a quick snippet of key information:
3CX: An IP phone system for Windows that replaces proprietary PBX systems. Supports both SIP desk phones and SIP compliant softphones.
SIP Trunking: A technology that makes and receives calls to external parties over the PSTN. It replaces traditional lines or PRIs.
SIP.US: A SIP trunking service provider compatible with various free, open-source, call control, and unified communications solutions, including 3CX.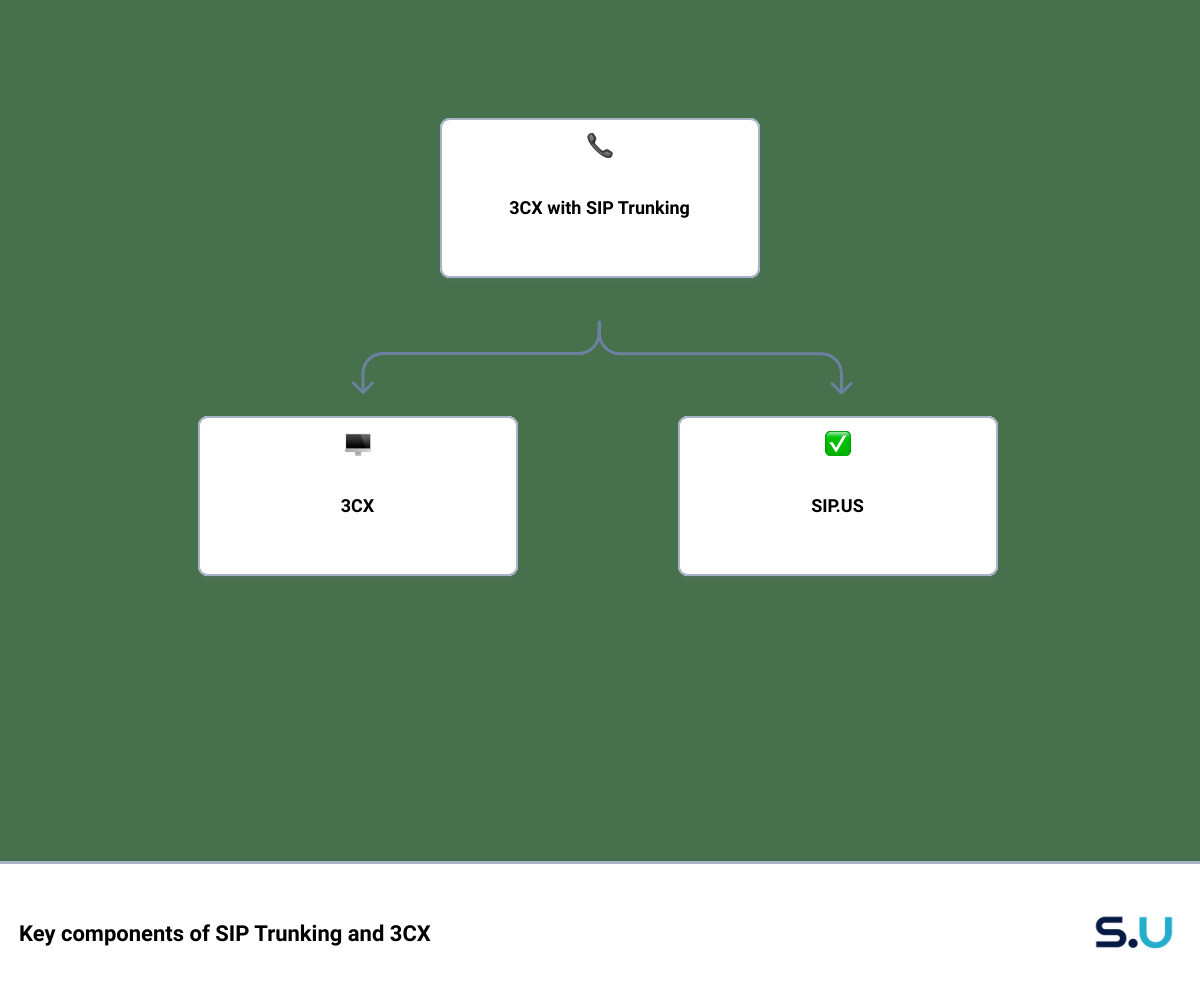 Understanding the Importance of SIP Trunks for 3CX
SIP Trunking is a vital component for businesses looking to leverage the power of modern telecommunication, offering a significant shift from traditional phone systems to a more flexible and cost-effective solution.
The Role of SIP Trunks in Connecting to the PSTN
At its core, SIP Trunking is the protocol that makes VoIP communication possible. It is a digital bridge that supports the transmission of voice, text, video, and images over the Internet. This eliminates the need for physical phone lines, enabling communication from anywhere, on any device connected to the internet. For businesses using a 3CX system, SIP Trunks play a crucial role in connecting to the Public Switched Telephone Network (PSTN). This lets you make and receive calls to external parties over the internet, enhancing connectivity and broadening your business reach.
The Cost-Effective Nature of SIP Trunks
One of the main advantages of utilizing SIP Trunks in your 3CX system is the potential for significant cost savings compared to traditional phone systems. At SIP.US, we aim to provide businesses with an economical solution without compromising quality and performance.
The Flexibility and Scalability of SIP Trunks
SIP Trunking not only offers cost savings but also enables flexibility and scalability. Whether your business is expanding or downsizing, you can easily adjust your SIP Trunk plan to suit your needs. This level of adaptability is nearly impossible with traditional phone systems. As businesses evolve and adapt to the demands of a remote workforce, the mobility and flexibility offered by SIP Trunks prove invaluable. Agents can send and receive calls from any location and on any device with internet access. This flexibility improves productivity and creates a more dynamic workforce, making SIP Trunks an essential component of your 3CX system.
We will guide you through the best SIP Trunks for your 3CX system. With the right choice of SIP Trunk provider, you can unlock the full capabilities of your 3CX system and elevate your business communication to new heights.
Why is SIP.US the Best SIP Trunk for Your 3CX System?
Selecting the right SIP trunk for your 3CX system is all about compatibility, reliability, and a host of features that align with your specific requirements.
SIP.US Offers Fast Set-Up, Easy-to-Use Control Panel, and Predictable Pricing
We at SIP.US pride ourselves on providing a SIP trunking service that is not only compatible with 3CX but also easy to install and configure. With a simple control panel to manage all aspects of your account, you can effortlessly purchase and manage phone numbers, add, change, or even discontinue service. Our services are provisioned immediately, and free trial accounts are available as soon as you confirm your email address. This means you can get up and running in record time.
In terms of cost, we offer a significant saving potential: Our SIP trunks come with predictable pricing so that you won't have any hidden or unexpected charges.
The Benefits of Using 3CX-Supported SIP Trunks
Choosing a SIP Trunk for your 3CX system can significantly elevate your business communication setup. But the question is, why should you opt for a 3CX-supported SIP Trunk? Let's explore the key advantages.
The Advantage of Pre-Configured Templates for Quick and Easy Configuration
Setting up a SIP Trunk can seem daunting, especially if you're not tech-savvy. However, with 3CX-supported SIP Trunks, you can use pre-configured templates. These templates have been tested and approved by the 3CX team, eliminating the need for manual configuration.
As a result, integrating a SIP Trunk into your 3CX system becomes a seamless process. It's as simple as choosing a preferred provider from the comprehensive list of supported SIP Trunks, and then selecting the pre-configured template. This process saves you time and minimizes the risk of errors during setup.
The Assurance of Full Support from Both the SIP Trunk Provider and 3CX
When you opt for a 3CX-supported SIP Trunk, you're not just purchasing a service; you're entering into a partnership with two committed teams. The SIP Trunk Provider and 3CX have pledged to support the integrated solution fully.
At SIP.US, we understand how vital reliable support is for businesses. That's why we work closely with 3CX to provide our clients with robust support. In the unlikely event that you encounter any issues, you can rest assured knowing that you have a team of experts ready to assist you.
The Regular Updates and Testing of Templates from Listed SIP Trunk Providers
Keeping up with the latest technology advancements is crucial for any business. With 3CX-supported SIP Trunks, you'll benefit from regular updates and testing of templates from the listed SIP Trunk Providers. The 3CX team ensures that all templates are updated and tested with each new release, guaranteeing a smooth user experience and mitigating potential issues.
Choosing a 3CX-supported SIP Trunk, like SIP.US, provides numerous advantages. From pre-configured templates for easy setup, and dedicated support from the SIP Trunk Provider and 3CX to regular updates and testing, your business is set to enjoy an enhanced, efficient, and reliable communication system.
Why 3CX and Supported SIP Trunks are the Perfect Match
As we usher in the digital transformation era, it's clear that 3CX and supported SIP Trunks are a match made in telecommunication heaven. Let's unpack why this unique synergy is an ideal solution for businesses seeking to modernize their communication systems.
The User-Friendly Interface and Easy Installation Process of 3CX
3CX is renowned for its easy-to-use web-based configuration wizard. Even for those without extensive technical experience, the intuitive interface makes the setup process a breeze. At SIP.US, we provide step-by-step instructions to guide you through setting up your 3CX PBX with SIP, making the process even more straightforward.
The Range of Features Offered by 3CX: Call Recording, Video Conferencing, CRM Integration
3CX is not just an ordinary phone system. It's a comprehensive solution that offers an array of features beyond basic call handling. With 3CX, you get call recording, video conferencing, CRM integration, and more, all in one place. SIP.US enhances these features by providing a simple control panel to manage all aspects of your account, offering a centralized, streamlined approach to telecommunication management.
The Strong Customer Support System of 3CX
When it comes to customer support, 3CX pulls no punches. They have a dedicated team ready to help with any issues that may arise. As a supported SIP Trunk provider, SIP.US is committed to offering our customers the same level of dedication, ensuring you have the help you need when you need it.
The Flexibility of Deployment Options: On-Premises, Cloud, or Hybrid Setups
3CX offers an impressive range of deployment options, including on-premises, cloud, or hybrid setups. This flexibility lets you choose the best fit for your business's needs and resources. SIP.US supports these diverse options with our robust high-speed broadband internet connection compatibility, including cable, T1-data, Metro Ethernet, or DSL.
The Ease of Configuration and Support When Using Supported SIP Trunk Providers
Choosing a 3CX-supported SIP Trunk provider like SIP.US offers unparalleled ease of configuration. Our SIP Trunks have been thoroughly tested with 3CX, and we provide pre-configured templates to make the setup process quick and easy. Additionally, both SIP.US and 3CX are committed to fully supporting the combined solution, giving you the peace of mind that comes with expert backing.
The blend of 3CX's feature-rich platform and the seamless integration of SIP.US's supported SIP Trunks makes for a powerful combination. It offers not only a modernized communication system but also a reliable, efficient, and cost-effective solution that can help propel your business into the future.