Unlock the Secret to Seamless Communications: Choosing the Perfect SIP Trunk Provider for 3CX
Making the right choice for your SIP trunk provider is a crucial decision that can impact your business operations, particularly if you use a PBX system like 3CX. Selecting the best SIP trunk provider for 3CX not only ensures seamless and efficient communication but also provides a robust and reliable connection to the public switched telephone network (PSTN).
As an expert in SIP trunking and VoIP services, we at SIP.US understand the intricacies of choosing the right provider. When you're selecting a SIP trunk provider for your 3CX deployment, the factors to consider go beyond just cost and compatibility. You'll also need to look at the quality of service, the provider's security measures, customer support, and much more.
Here is a quick rundown of factors to consider when choosing the perfect SIP trunk provider for 3CX:
Quality of Service (QoS): Ensures clear and crisp calls.
Cost-effectiveness: Offers value for money, particularly for long-distance and international calls.
Customer Support: Provides fast response times and round-the-clock service.
Security: Protects from threats like denial of service, eavesdropping, and spam attacks.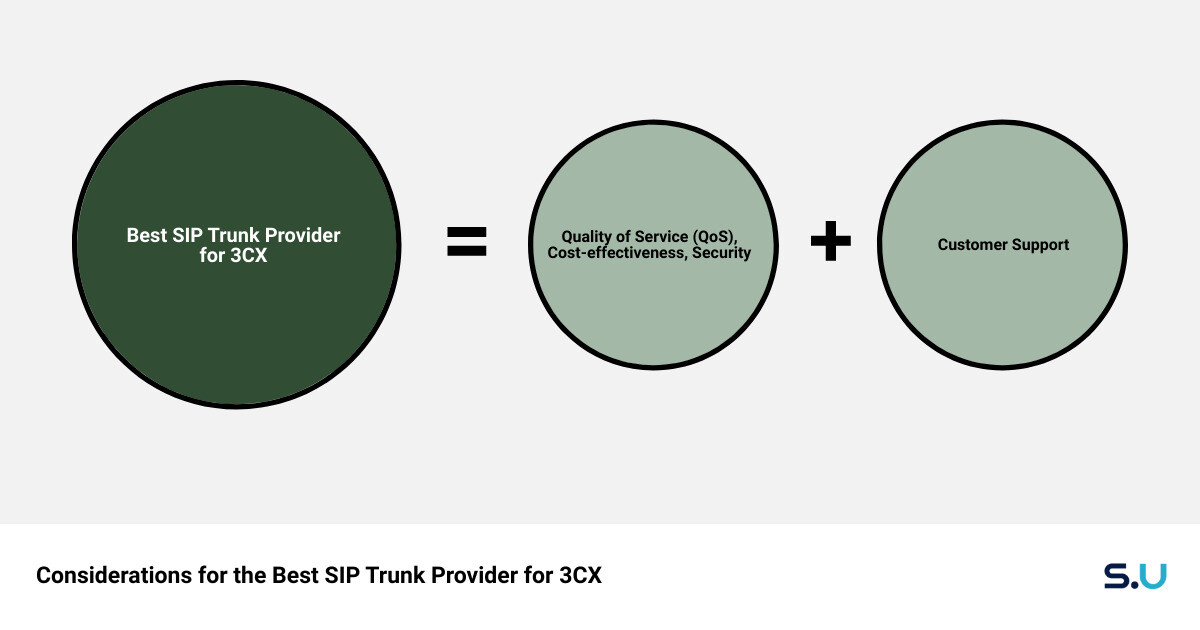 Understanding SIP Trunking and Its Role in 3CX
Before we explore why SIP.US is your best option for a 3CX SIP trunk provider, let's take a moment to understand what SIP trunking is and its crucial role in 3CX.
SIP (Session Initiation Protocol) is a signaling protocol used for initiating, maintaining, modifying, and terminating real-time sessions that involve video, voice, messaging, and other communications applications and services between two or more endpoints on IP networks. In simple terms, SIP trunking is a method of sending voice and other unified communications services over the internet. It works with an IP-enabled PBX (Private Branch Exchange).
The 3CX system is an IP phone system for Windows that replaces traditional PBX hardware phones. It's based on the SIP standard and supports standard SIP software or hardware phones. It allows calls to be made via a VoIP service provider or, in layman's terms, it's your own phone system to manage and route calls.
So where does SIP trunking fit into this? A SIP trunk is essentially the virtual version of the traditional physical phone line. It utilizes a packet switch network rather than dedicated line transmission, enabling you to communicate directly with your Internet Telephony Service Provider (ITSP). Thus, you can make local, long-distance, and international calls over the Internet.
In the context of 3CX, SIP trunking is how the phone system is connected to the internet, enabling you to make outbound calls to landlines and mobile networks worldwide and receive inbound calls. The SIP trunks connect your 3CX PBX to the PSTN via broadband, ethernet or private circuit into our national network.
At the heart of this configuration is the SIP Trunk Provider. This entity provides you with the SIP trunks, thus connecting your 3CX phone system to the outside world. It's the conduit between your 3CX PBX and the public switched telephone network (PSTN).
Choosing the right SIP Trunk Provider for your 3CX system is crucial for ensuring high-quality, reliable voice communications. It can also significantly reduce the cost of your business phone bills, especially for long-distance and international calls.
Having explained SIP trunking and its role in 3CX, it's time to reveal why SIP.US is your top choice for a SIP trunk provider.
Why SIP.US is the Ideal SIP Trunk Provider for 3CX
A SIP trunk provider should be more than another tool in your business arsenal. It should be an ally, a partner that understands and supports your business needs. As a leading SIP trunking provider, SIP.US is ready to fill this role for your business communication needs.
Fast Set-Up and Easy-to-Use Control Panel
First impressions matter, and SIP.US makes a stellar one with its blazing-fast set-up. As a business, you can't afford to waste time tangled in a web of complex installations. With SIP.US, your SIP trunk is implemented in seconds, and new numbers and channels can be added on-demand in minutes. This rapid set-up process ensures a seamless transition to this modern communication system.
But the ease doesn't stop there. The fully automated control panel provided by SIP.US gives you complete command of your SIP trunks, telephone numbers, provisioning, billing, and call data records. Even if you're not a tech wiz, you can navigate this user-friendly interface with confidence.
Ultimate Flexibility and Predictable Pricing
SIP.US doesn't believe in a one-size-fits-all approach. You can choose your internet provider, bandwidth, phone, and carrier. This flexibility lets you customize your system to fit your unique business needs, not the other way around.
The cherry on top? Predictable pricing. SIP.US offers a prepaid service at $24.95 per month per unlimited channel. You can add or cancel channels anytime without worrying about hidden fees or penalties. This predictable pricing model helps businesses manage their communication costs effectively.
Seamless Integration with Microsoft Teams
Collaboration tools have become an integral part of business operations. SIP.US recognizes this and offers integrations with Microsoft Teams. This enables your SIP trunks to connect with Teams, providing you with enterprise voice and collaboration capabilities on a unified platform. This integration enhances communication and collaboration within your team, driving productivity and efficiency.
Reliable and Secure SIP Trunking Services
At SIP.US, we understand the importance of reliability and security in communication systems. We commit to providing a trustworthy service that ensures your business communications run smoothly and securely, giving you peace of mind.
SIP.US is not just another SIP trunk provider. We are a partner that brings speed, ease, flexibility, and security to your 3CX system. Our features and benefits align perfectly with the needs of modern businesses, making us your ideal choice for a SIP trunk provider.
How to Set Up a SIP Trunk in 3CX with SIP.US
Setting up a SIP Trunk with SIP.US is straightforward. Our goal at SIP.US is to make the process as pain-free as possible. Regardless of your technical knowledge, you can have your SIP Trunk up and running quickly.
To get started, you need to create an account with SIP.US. Once your account is set up, you can configure your 3CX system to use our SIP trunking service. This involves entering the main trunk number in the appropriate format. Depending on the provider, this could be the international format (e.g., 17778811960), E164, or national format (e.g., 7778811960).
Next, you must ensure you can only present numbers associated with your SIP.US account as your Outbound Caller ID. This is an important step for ensuring your communications are secure, and your business is easily identifiable during calls.
You then have to follow the configuration guide provided by your provider. This guide typically covers the generic steps required to configure a trunk with 3CX. Some providers, like SIP.US, may have special configuration requirements, so it's important to check these before proceeding.
Finally, you must test your setup to ensure everything works as expected. This involves making a few test calls and checking that all features function correctly.
SIP.US ensures that all templates from listed SIP Trunk Providers are updated and tested with every release, ensuring no issues arise for our users. We also provide a simple control panel to manage all aspects of your account. This way, you can easily purchase and manage phone numbers, add, change, or discontinue service.
Setting up a SIP Trunk in 3CX with SIP.US is not just about getting your communications up and running. It's about optimizing your business communications for cost-effectiveness, flexibility, and efficiency. Trust us to guide you through every step of the way.
Remember, if you encounter any challenges during the setup process, our dedicated customer support team is always ready to assist. At SIP.US, we're not just a provider; we're your partner in seamless and efficient business communication.
The Benefits of Using 3CX with SIP.US
When it comes to setting up a communication system that is both efficient and cost-effective, the combination of 3CX and SIP.US stands out. This powerful duo offers several advantages that can transform your business.
User-Friendly Interface and Easy Installation
One of the significant benefits of using 3CX with SIP.US is the ease of installation and configuration. Unlike proprietary phone systems that require experts for installation, anyone with a good understanding of Windows and computer networks can install and configure 3CX PBX with SIP. Our easy-to-use web-based configuration wizard makes setup and management a breeze.
Range of Features: Call Recording, Video Conferencing, CRM Integration
We at SIP.US provide various features that enhance your communication and collaboration capabilities. With 3CX, you can access advanced unified communication features such as call recording, video conferencing, and CRM integration. These features, combined with the power of SIP.US, allow for robust and enhanced communication operations for your business.
Flexibility in Deployment: On-Premises, Cloud, Hybrid Setups
The flexibility offered by 3CX with SIP.US is another key advantage. You have the option to deploy your PBX system in the way that suits your business best, be it on-premises, cloud, or hybrid setups. This flexibility ensures you can adapt your communication system to meet your business's changing needs.
Strong Customer Support System
At SIP.US, we take customer support seriously. Our dedicated team is always ready to assist you with any issues that may arise during the setup or operation of your 3CX system. We also provide a simple control panel to manage all aspects of your account, making it easy to add, change, or even discontinue service.
Cost-Effectiveness
One of the top reasons businesses choose 3CX with SIP.US is the potential for significant cost savings. By leveraging SIP.US for long-distance or international calls, customers have reported communication cost savings of 40-60%.
The combination of 3CX and SIP.US offers functionality, flexibility, and cost-effectiveness. It is a powerful tool that can help transform your business communication and collaboration capabilities.
The Power of Seamless Communications with 3CX and SIP.US
SIP Trunking offers businesses the opportunity to upgrade their traditional phone systems. It provides a robust, scalable, and cost-effective solution that meets the demands of modern business communication. By utilizing a SIP trunk from a reliable provider like SIP.US, businesses can ensure they have the resources to compete in the digital age.
SIP.US excels among top SIP trunk providers, offering a fast set-up process, an intuitive control panel, ultimate flexibility, and predictable pricing. With its valuable integrations with Microsoft Teams, SIP.US offers a comprehensive VoIP solution tailored to the needs of small and medium-sized businesses.
Investing in a SIP trunk from SIP.US is an investment in your business's future. It's a step towards modernizing your communication systems, boosting productivity, improving collaboration, and, ultimately, driving business growth.
The combination of 3CX and SIP.US offers a powerful blend of functionality, flexibility, and cost-effectiveness. This combination not only ensures improved call quality, advanced VoIP features, increased mobility and flexibility, but also significant cost savings.
In an increasingly digital world, communicating seamlessly, efficiently, and cost-effectively will be crucial for businesses of all sizes. Therefore, harness the power of seamless communication with SIP Trunking and take your business communication to the next level with SIP.US and 3CX.
Our team at SIP.US is committed to providing you with the best service. We believe in empowering our clients with the best tools for communication. Make the switch today and see the difference it can make for your business.