The Ultimate Guide to Boosting Business Communication: Uncover the Best SIP Trunk Solution
As a company, communicating efficiently, reliably, and cost-effectively is crucial in today's competitive landscape. This is where SIP Trunking comes into play. Whether you are a solopreneur working from your basement or a Fortune 100 company with global operations, SIP Trunking is the solution that can evolve with your communication needs, ensuring a unified and robust system.
Here at SIP.US, we understand the need for dynamic and scalable communication systems. We know that businesses crave services that are not only reliable but also offer significant cost savings and advanced features. With our SIP Trunking solution, you can enjoy improved call quality, advanced VoIP features, increased mobility and flexibility, and significant cost savings.
Let's dive into a quick overview of the benefits of SIP Trunking:
Scalability: Quickly adjust your services in line with business expansion or contraction.
Cost Savings: Eliminate the need for expensive on-site hardware and infrastructure.
Unified Communications: Manage voice, video, and data communications from one platform.
Mobility: Access communication services from any device, anywhere.
Increased Reliability: Benefit from redundant networks and backup systems.
Advanced Analytics: Understand and manage your communication services better with call history tracking and usage analytics.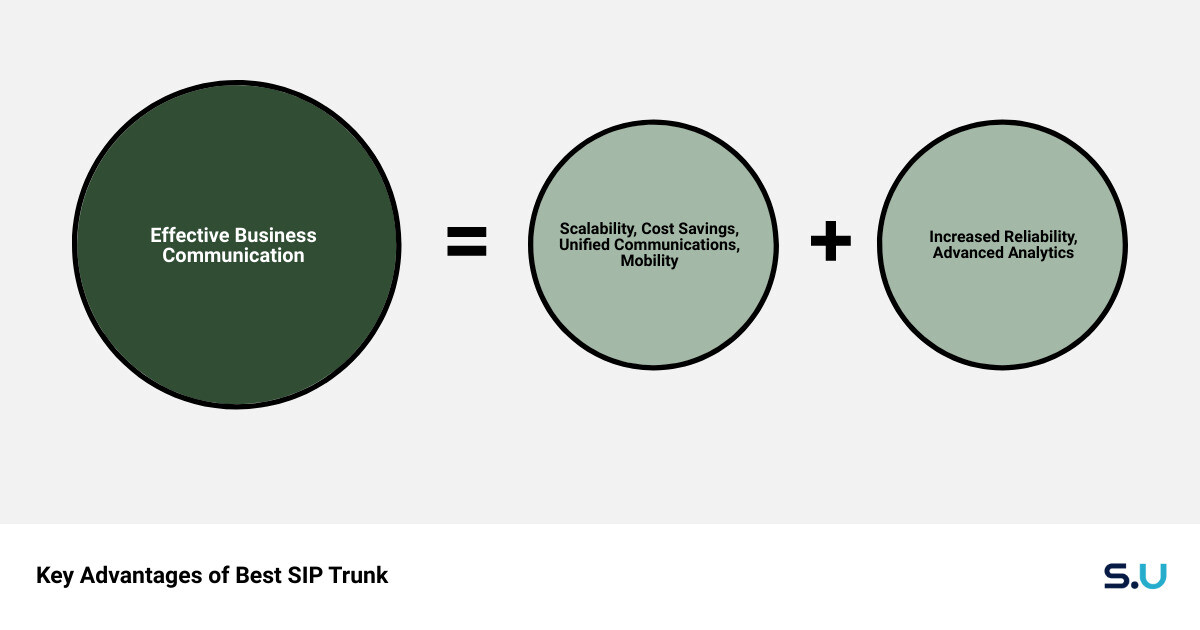 This article is your ultimate guide to boosting business communication with the best SIP Trunk solution. Stay tuned as we delve deeper into understanding SIP Trunking, debunk myths about its reliability, break down its cost, compare top providers, and finally guide you on choosing the right provider for your business.
Understanding SIP Trunking: A Deep Dive
In the age of digital communication, businesses must leverage the most efficient and cost-effective technologies. One such technology that's making waves in the modern business landscape is SIP Trunking.
What is SIP Trunking?
Session Initiation Protocol (SIP) Trunking is a virtual communication system that enables businesses to make and receive calls over the Internet. Unlike traditional analog phone lines, SIP trunks use the power of the internet to connect your business to the Public Switched Telephone Network (PSTN). This seamless connectivity eliminates the need for physical phone lines, significantly cutting costs and offering greater flexibility. It's like having an unlimited number of phone lines without the actual cables and hardware.
According to a report by Research and Markets, the global SIP trunking services market size is predicted to grow to a whopping US $31.401 billion in 2027, reflecting its increasing popularity among businesses.
How Does SIP Trunking Work?
SIP Trunking creates a virtual link between your business's Private Branch Exchange (PBX) and the Internet. This virtual link, or "trunk," connects your PBX to the internet, enabling you to make and receive calls, transmit videos, and even participate in live video conferences.
Once the SIP trunk is connected, your business can handle multiple calls simultaneously while running various web applications. For instance, if you have 10 employees in your office, five could be on calls, three could be running a web app, two could hold a video conference, and the rest could be working on cloud-based software. All this is made possible by a robust internet connection and the power of SIP Trunking.
The Benefits of SIP Trunking for Businesses
SIP Trunking offers many benefits to businesses, especially those looking to streamline their communication systems and reduce costs. Here are some of the primary advantages:
Cost-Effective: SIP Trunking eliminates the need for traditional landlines, cutting infrastructure costs. Businesses are charged based on the maximum number of calls made and received rather than the number of trunk lines, making it a cost-effective solution.
Scalable: With SIP Trunking, businesses can easily scale their communication systems in line with their growth. You can add or remove phone lines and features as per your requirements without any hassle.
Enhanced Employee Mobility: SIP Trunking offers high flexibility and mobility, allowing employees to work from anywhere. Calls can be routed to employees' mobile phones, enabling them to work from home or while traveling.
Reliability: In a power outage or internet breakdown, SIP trunk providers can reroute calls to other devices, ensuring uninterrupted communication.
Key Features of SIP Trunking
Apart from the significant benefits, SIP Trunking also offers a range of features that can enhance your business communication:
Direct Inward Dialing (DID): This feature enables businesses to use local DIDs wherever they operate, without needing a physical office.
E911 Support: With this feature, you can add 911 services to your local number, ensuring immediate address display to the operator in emergencies.
Caller ID: This allows for customized inbound and outbound Caller ID functionality.
Voicemail to Email: SIP Trunking supports voicemail-to-email functionality, enabling users to access voicemails quickly and on the go.
Interoperability: This feature allows businesses to choose the combination of software and hardware best suited for them.
Disaster Recovery: In a disaster, SIP trunks can be routed to different locations, ensuring that the business remains unaffected.
At SIP.US, we understand the power of seamless communication. That's why we offer reliable and efficient SIP Trunking solutions to help businesses stay connected, reduce costs, and enhance productivity. Stay tuned as we debunk myths about the reliability of SIP Trunks in the next section.
The Reliability of SIP Trunks: Debunking Myths
In business communications, SIP Trunking has been nothing short of transformative. However, as with any technology, some myths and misconceptions can cloud understanding. In this section, we'll debunk these myths and shine a light on the true reliability of SIP Trunks.
How Reliable are SIP Trunks?
In our digital age, the question of reliability is paramount for businesses. Traditional telephone services can be easily disrupted by bad weather, equipment failure, or network issues. In contrast, SIP Trunking with VoIP — the technology we use at SIP.US — is far more reliable than traditional phone systems. Our technology allows users to keep using their phones by routing calls to other devices or lines in the event of service disruption.
By creating multiple redundant connections between your business and your service provider, SIP Trunking ensures that uninterrupted telephone communication is always available, even in an outage or failure of the service provider's network.
The Role of Internet Connection in SIP Trunking
A common concern with SIP trunking is the perceived dependency on the quality of the Internet connection. However, it's important to note that the best business SIP services use tier-1 redundant networks over high-speed internet connections, which leads to optimal call quality.
Quality of Service (QoS) settings can be activated on routers to ensure voice traffic is prioritized over data traffic. This prioritization of voice packets over other data traffic sharing the same connection is a crucial feature that maintains voice quality.
While it's true that achieving QoS over the public internet can be challenging, with the right SIP Trunk provider like SIP.US, and the correct setup, these challenges can be overcome.
Overcoming Potential Challenges with SIP Trunking
While the transition to SIP Trunking can seem daunting, it doesn't have to be. Many people believe you need to be a telecommunications expert to install and maintain a SIP solution, but this isn't the case. At SIP.US, we work with customers every day who have no technology background at all. With the help of our support team and online resources, they can get their solution up and running in no time. Our online control panel makes administering the solution a snap.
Regarding security, toll fraud is a problem for business phone systems of every type, and VoIP solutions are a particularly attractive target for thieves. However, businesses need not be deterred from taking advantage of the cost savings and flexibility offered by SIP. Selecting a solution like SIP.US that uses automated systems can help detect fraud and protect your account even if your on-premises systems are compromised.
With the right SIP Trunk provider you can overcome potential challenges associated with SIP Trunking, and enjoy the immense benefits that this modern communication technology offers for your business.
The Cost of SIP Trunking: A Comprehensive Breakdown
When it comes to business communication, cost efficiency is a key priority. This is where SIP trunking shines bright, offering significant savings over traditional phone systems. However, understanding the cost structure of SIP trunking can be a bit complex, given that it involves direct charges, associated costs, and variable factors.
Average Cost of SIP Trunking
The cost of SIP trunking can vary widely depending on the service provider and the specific requirements of your business. For those on a metered plan, many providers charge additional fees for phone numbers (DIDs) and assess different charges depending on the volume and origination/destination of phone calls.
This cost structure, however, offers more flexibility compared to traditional phone services. You can adjust the number of SIP channels according to your needs, ensuring that you only pay for what you use.
Factors Influencing the Cost of SIP Trunking
Several factors can influence the cost of SIP trunking:
Setup fees: Some service providers do not charge an initial setup fee. Instead, they roll the startup costs into the monthly bill.
Direct Inward Dial (DID) fees: Expect to pay a small monthly fee for each local, toll-free, and international DID number you need.
Number porting: There is usually a fee for porting your phone numbers to your new SIP trunking service.
Nomadic e911 service: This is a necessary service to ensure that emergency responders can locate the caller. Most SIP vendors charge a fee for e911 on each number.
Taxes and regulatory fees: Telecommunications is a heavily regulated industry, and providers often pass along the associated fees to customers.
Cost Savings with SIP Trunking
One of the major advantages of SIP trunking is the significant cost savings it can bring to your business. Most long-distance calls are free with SIP, and international calls are a fraction of the price compared to traditional phone services.
At SIP.US, we offer transparent and no-nonsense pricing, making it easy for businesses to understand the cost structure and anticipate their monthly expenses. It's our mission to help businesses reap the benefits of SIP trunking without burdening them with complex pricing structures.
When you consider the cost savings, the flexibility, and the enhanced features that SIP trunking offers, it's clear that this solution is a smart investment for businesses looking to modernize their communication systems.
Choosing the Right SIP Trunk Provider: Key Considerations
Selecting the best SIP trunk provider for your business can seem daunting. By focusing on four key areas — deployment type, network quality, pricing, and security — you can narrow your choices and find the perfect provider.
Deployment Type, Flexibility, and Simplicity
The first factor to consider is the deployment type of the SIP trunk service. Providers fall into several categories, including traditional phone companies, cloud-based providers, business VoIP service providers, small business specialists, and professional services companies. Your choice will depend on your specific needs and the resources you have available.
Flexibility is another crucial aspect. As SIP.US, we know businesses must be agile and adaptable, so we offer flexible configuration options. This allows you to tailor your telephone system according to your individual requirements, such as selecting specific codecs, determining call routing paths, and setting up emergency calling capabilities.
Simplicity is the third pillar of this consideration. The best SIP trunk providers make deployment and maintenance a breeze. At SIP.US, we ensure the implementation of SIP trunking is relatively simple and straightforward, with minimal or no additional hardware or software required.
Network Quality and Call Volume
Call quality is a non-negotiable aspect of a reliable SIP trunk service. The quality of service (QoS) should maintain and improve latency, jitter, burstiness, and packet loss to keep all calls clear and crisp. At SIP.US, we strive to ensure your calls are never fuzzy, echoey, or delayed.
Additionally, consider your call volume. Different providers might be better suited for different call volumes, so you'll need to select a provider that can handle your specific needs without overloading your existing network.
Pricing and Contract Terms
One of the best qualities SIP offers is lower phone costs, especially for long-distance and international calls. Look for pay-as-you-go pricing models compared to paying upfront or bundles. Larger businesses may find SIP bundles to be a better deal. At SIP.US, we offer competitive pricing options that provide value for money and accommodate your business's growth.
Contract terms are also important. Avoid locking your business into a long contract that prevents you from adding users or penalizes you for making changes. At SIP.US, we believe in transparency and flexibility regarding our contracts, and our customers on average save between 40% and 60% on their monthly business communications spend when they switch.
Security Measures and Customer Care
Your chosen provider should invest heavily in security technologies to prevent denial of service, eavesdropping, and spam attacks. At SIP.US, we offer end-to-end encryption and round-the-clock monitoring to ensure the integrity and security of your data and communications.
Exceptional customer support is also a must. Look for a provider that offers 24/7/365 support to all customers. Fast response times to service outages and other customer service requests can make a significant difference in your overall experience. At SIP.US, our dedicated support team is always just a call or click away.
When choosing a SIP Trunk provider, it's essential to consider the deployment type, flexibility, simplicity, network quality, call volume, pricing, contract terms, security measures, and customer care. But remember, the best SIP trunk solution is the one that matches your business's unique needs and goals.
Boosting Business Communication with the Best SIP Trunk Solution
Boosting your business communication is no longer a distant dream or an arduous task. With the right SIP trunk solution, you can achieve not only improved communication but also high efficiency, cost savings, and advanced features that cater to your unique business needs.
Understanding the power of SIP trunking is the first step in this journey. As we've learned from various sources, SIP trunking is a flexible, robust, and affordable solution that allows businesses of all sizes to manage voice, video, and data communications from one platform. Whether you're a solopreneur working from your basement or a multinational corporation, SIP trunking adapts to your changing needs.
The scalability and resilience of SIP trunking make it a reliable solution for business communication. It leverages the power of the internet to ensure uninterrupted communication, even in the face of unpredictable weather conditions or unexpected operational changes.
One of the key considerations when choosing a SIP trunk provider is the range of features and services offered. From advanced analytics and unified communications to increased reliability and mobility, the best SIP trunk providers offer a comprehensive suite of features that enable businesses to manage their communications better.
At SIP.US, we understand that every business has different needs and goals. That's why we offer flexible configuration options, allowing you to tailor your telephone system according to your individual requirements. Our SIP trunking solutions have a dedicated web portal, so you can easily add or delete numbers as needed. Plus, we offer ongoing technical support to ensure any issues can be quickly resolved.
The future of business communication lies in SIP trunking. As more businesses embrace this technology, we expect to see further advancements and improvements in the industry. The trend towards increased flexibility, efficiency, and security signals a bright future for SIP trunking.
The best SIP trunk solution is the one that aligns with your business's unique needs and goals. By carefully considering your requirements and comparing different providers, you can find a solution that boosts your communication and propels your business toward success.
So why wait? Explore the power of SIP trunking with SIP.US and experience the difference firsthand!